Forest Bathing – Sherri McMillan
Forest Bathing
Since Health and Fitness Clubs are still closed, many of us are opting for outdoor workouts. We are blessed to live in the PNW, where we have access to so many paths, trails, lakes and rivers to enjoy stunning scenery.
One program gaining popularity is Forest Bathing, originating in Japan, and is simply spending time outdoors under the canopy of trees. There have been many articles explaining the approach and it's benefits.
There is nothing like fresh mountain air and beautiful terrain to boost your energy and your immune system. We are fortunate enough to be so close to the Gorge, Mt. St. Helen's, Mt. Hood, the Coast and numerous parks and trails right here in Clark County.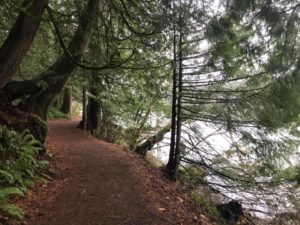 You can explore local trails right here in Clark County with minimal elevation but maximum scenery including Lacamas Lake & Round Lake Trail, Battle Ground Lake, Moulton Falls trail, Lewis River Park Trail, Discover/Burnt Bridge Trail, Salmon Creek Trail, Renaissance Waterfront Trail, Vancouver Lake forest trails and Whipple Creek. The options are endless including the amazing Forest Park in Portland!
---
Here are some benefits of getting out into our local forests:
Exercising outdoors is good for your body AND your mind!
One study found that outdoor exercise was associated with increased energy as well as decreased anger and depression.
Exercising outdoors may increase your consistency!
Outdoor exercisers reported enjoying their workouts more and said they were more likely to repeat the workouts. Another study found subjects reaped more benefits from outdoor workouts and were significantly more likely to adhere to their training programs.
Exercising outdoors may boost self-esteem!
One study found that working out in nature can improve self-esteem. Furthermore, researchers found that low-intensity exercise outdoors had the biggest positive effects, so you don't have to go hard to reap the benefits.
Exercising outdoors provides the benefits of Vitamin D!
Exposure to sunlight is critical to Vitamin D production which is important to our overall health and functioning and can help you sleep better, improve your immune system and increase endorphins – those feel-good hormones!
Exercising outdoors can burn more calories and provide more physiological benefits!
When you have to deal with different terrain, elevation and wind, your body is going to have to work harder!
---
The benefits are tremendous and would warrant dedicating at least 1-2 of your workouts per week to be outdoor workouts. Enjoy the majestic views and take a moment to be thankful for the beautiful area we live in.
Yours in health & fitness,
Sherri McMillan
Note: As an avid Columbian reader, you can redeem a complimentary initial in person or virtual personal training appointment to help get you started. Email us for more details.
---
Did you know that YOU can get access to 6-weeks of our Virtual Group Fitness Program for only $99!?!?
Don't wait until January to get started, now IS the time!
Strength Training
Cardio Kickboxing
Mobility
Barre Fitness
Cycling
Rowing
Yoga and more… all in one place!
You can call us to purchase M-F between 10am-2pm 360-574-7292 OR purchase online today!
Comments
---