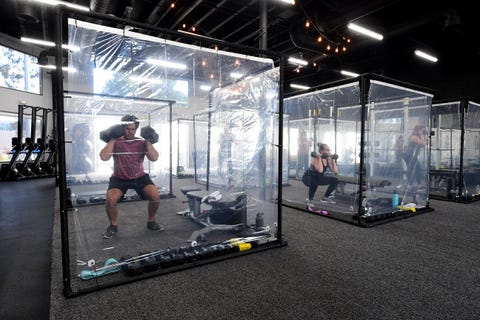 FREDERIC J. BROWNGetty Images
Some gyms around the country have reopened from extended closure due to the coronavirus pandemic and little has changed beyond a new dedication to cleanliness and policies to reduce crowd capacity. For others, totally new procedures are in place—or will be, as not all states have passed the public health requirements for reopening just yet—like temperature checks at the door, compulsory mask policies, and strict social distancing practices. Then, there's Inspire South Bay Fitness in Redondo Beach, California.
The fitness club made headlines with local station KTLA5 after debuting its solution for community training in the age of COVID-19: individual training pods—which gym owner Peet Sapsin dubbed "Gainz Pods" on Instagram—for clients to use to participate in group workout classes while remaining isolated.
This content is imported from Instagram. You may be able to find the same content in another format, or you may be
…
Read More